You may have noticed that the UK has been enjoying some rather nice weather of late. Sure, it has been interspersed with our usual dark clouds, and downpours of heavy rain, but generally speaking it has been sunny, and, best of all, hot (well, hot by our standards).
This, folks, is summer (or was summer, if you happen to be reading this a few days after publication, by which time I feel certain we'll be back to 'overcast and chilly').  Make the most of it, because soon it will be July, and then the following will happen:
The schools break up;
Glastonbury;
Wimbledon;
People start optimistically buying barbecues.
Glastonbury: Shit
On their own, any of the above list would be sufficient to jeopardise our current nice weather, but since all four will happen in a relatively short period of time, there is no doubt that we will be cold and soaking by mid-July. Welcome to the British summer.
But is summer all it's cracked up to be anyway?
Answer: no, not really.
Look, it's not the worst of the seasons by a long shot (Autumn, I'm looking at you), but bearing in mind I am grumpy most of the time anyway, I can find fault in pretty much anything if the mood takes me (apart from, perhaps, Holly Willoughby).
So, on the basis there will be people reading this thinking, 'go on, give me one good reason why summer is a bit shit', I'll do better than that – I'll give you ten reasons (and that's on top of the aforementioned Glastonbury and Wimbledon).
1. Suncream
NB: Not my leg, sadly
I am well aware that the alternative to wearing suncream, is sunburn (or worse), so obviously I don't think it should be avoided altogether, but that doesn't mean I have to like it, either. It's time-consuming to apply, leaves you greasy and/or sticky, attracts every insect and grain of sand within a five-mile radius, and more often than not it smells of fucking coconut. I hate coconut. If I wanted to smell of coconut, I'd take a bath in some Malibu, then stick a Bounty up my arse.
2. Wasps
Vicious. Little. Bastards.
I don't care if they are one of God's creatures, and apparently do serve an actual purpose (in addition to bringing misery to millions of people, by spoiling their picnics and stinging them), they are evil, and should be exterminated.
We recently had a particularly aggressive wasp in the office, and my colleague berated me for trying to kill it – to the point she 'rescued' it from the toilet where it was trapped, and released it back into the wild. Let's not forget, it was the wasp's decision to actually fly under the toilet seat, then lie in wait for some poor unsuspecting butt cheeks to pierce; but, oh no, apparently I was the monster for trying to help it on it's way with a gentle flush (oh, and I may have peed on it first for good measure).
I tried to argue that there was only room for one tiny little prick in that bathroom, and it wasn't the wasp's, however my colleague still set it free (I sincerely hope the wasp then flew directly to her car, to wait for the drive home).
As far as I am concerned, we have other insects for pollination, so wasps add absolutely nothing to society other than misery and the sooner they become extinct, the better.
3. Sleeping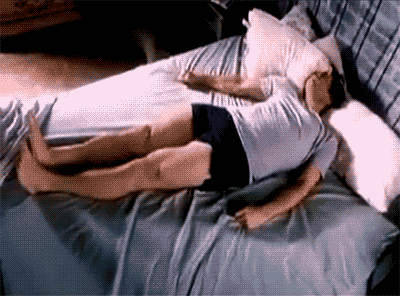 Sleeping in the summer is a bloody nightmare. Ok, getting into a cold bed during the winter months can initially be a little unpleasant, but you quickly warm up, and that's why we have electric blankets and hot water bottles (even if I don't use either).
But in the summer, you get into bed all hot and sticky, and you remain that way, until you finally give up on sleeping and go back to work. Sure, you can leave some windows open for cooler air once it goes dark, but this invites every bug in the area to enter the room and attack you during the night.
4. Hayfever
Arguably the shittest of all the debilitating inflictions, because it is essentially just itchy and streaming eyes and nose, interspersed with occasional sneezing, but if you don't suffer with hayfever, you will never understand how truly fucking annoying it is, and how miserable it can make you.
Plus, you have to listen to every person over the age of fifty, when they explain to you their own personal guaranteed method for curing it: "get some local honey, and rub it on your scrotum on the second Tuesday of each month…"
5. Sunglasses
Sunglasses generally make people look cool. I am not cool (you may have noticed).
Coolness is not the issue, however. My main problem with sunglasses, is that my eyesight is only marginally better than Stevie Wonder's, so in order to wear them when it is bright and sunny outside, means one of the following:
Contact lenses – Except, I don't wear contact lenses regularly, so it can take up to fifteen minutes to prod the sodding things into my eyes (by which point they are so red and sore, I regret my decision anyway). Plus, I suffer from hayfever – see above – so my eyes are already itchy as it is, and not particularly keen to have salty plastic discs stuck onto them;
Exchanging my normal glasses for sunglasses, then hoping I don't walk into lampposts, other people, and dog shit. This usually means my wife guiding me around like, well, Stevie Wonder;
Wearing prescription sunglasses – because prescription sunglasses are almost like actual sunglasses (in the same way that Quorn is almost like actual meat). Almost.
These are all, however, better than the final option…
Wearing those 'clip-on sunglasses' last seen in 1989:
I'm probably better off sticking to my normal specs, and just squinting a lot.
6. The Lack of Football
Now, as far as my wife is concerned, having her husband and eldest son available on Saturdays again, even if only for a couple of months a year, is a bonus (although, the novelty usually wears off by mid-June); but for Ollie and I, losing our fortnightly fix of live football until the start of August is devastating.
We love our team (shit and perpetually disappointing though they are), and no amount of Russian World Cup can scratch that itch, I'm afraid.
7. Ice cream
I quite like ice cream (despite my pathetically sensitive teeth), and there is nothing finer on a hot summer's day, than enjoying an ice cream cone with your family.
For three minutes.
Then, after that fleeting moment of summery bliss, it becomes a battle against time, as you frantically try to stem the flow of melting dessert from trickling towards your hand. And, even if you manage to finish the ice cream before it reaches your fingers and makes you all sticky (not to mention irresistible to those fucking wasps), enough of it has escaped to soften the cone, which then collapses and covers you anyway.
The only thing worse than trying to successfully eat an ice cream yourself, is handing one to a child.
8. Teachers
I have to tread carefully here, as I'm married to a teacher, but my God they start to get smug by the end of May, and downright unbearable come July, as that colossal six week holiday approaches. Don't get me wrong, teachers work very hard, and my wife is often marking and planning lessons beyond midnight, but all of the stress and abuse has to be at least worth considering, for six weeks off in the summer.
At least if I was a teacher too, we could go away for most of the summer (thereby avoiding the likes of Glastonbury and Wimbledon, and all the middle-class twats who attend them), but I get a very limited amount of annual leave, and when we do go away it has to be when the schools are off, which means paying twice as much.
9. Convertibles
There are two types of convertible car owners.
The first, are those really smug drivers, who put the roof down in the middle of March, (when the sleet eases slightly, and the temperature creeps above freezing), to try and justify their ridiculous purchase. Then, when the weather genuinely turns nice around this time of year, they drive up and down the roads of Britain, wearing sunglasses, and laughing at the glorious world which surrounds them.
For three days a year, their car is perfect, and wonderful, and we're all jealous. It matters not, that most convertible drivers are bald, middle-aged estate agents, with bugs firmly embedded between their teeth, because for once they are winning at life.
Then, we have the second category: those truly hopeless convertible car owners who, when faced with a gloriously sunny day (the one chance they have to finally enjoy their nearly-pointless automobile), they leave the top on. Why on earth would you buy a convertible car in this country, if you don't fucking use it on a sunny day?
10. Roadworks
For those of us who commute to work each day, roadworks are our enemy, but at least during the winter, they are kept to a minimum.
However, as soon as the schools break up for summer, every Council in the country sees this as a green light to start digging up all the roads that they have been neglecting since the summer before.
I understand the reasoning behind this, as there are supposedly less cars travelling, so the disruption is minimised, but school holidays are the one chance we commuters get to enjoy a slightly easier journey to work, and yet we are denied this minor respite time and time again.
In fact, the only people who benefit from roadworks being delayed until the school holidays, are parents who don't work, and teachers – and, frankly, we've already established that the summer holidays are the one time of year when teachers deserve bugger all.
Why doesn't anyone ever think of the lawyers?
Ok, don't answer that.
Thanks for reading x