My wife and I don't always agree on everything – but one thing we do agree on, is that Italy is at the very top of our 'countries we would both like to visit, that neither of us have ever been to' list.
Say what you like about the Italians (unless you happen to be Prince Phillip, in which case you had better stay quiet), but there aren't many things they do badly – except, perhaps, pop music, and choosing sides during a world war. They look good, they sound great, and most things they turn their perfectly bronzed hands to they excel at: food, art, cars, football, architecture, the making of the love*, riding a moped without a helmet…. as a nation they are just so damn sexy.
*this is an educated guess, as I have never slept with an Italian.
In fact, Ollie's current topic at school is 'Italy' (which is actually the reason behind this week's entry, but we'll get to that in a bit), so I just asked him to name something the Italians are rubbish at, and the best he could come up with was 'knowing when to run away from a volcano.' I think that speaks volumes, really, don't you? According to my nine-year-old, the last time the Italians were truly shit at something was a little under two thousand years ago (although, in fairness, we didn't let him stay up for Eurovision this year). In contrast, I don't think we Brits could last two thousand minutes without badly fucking up something. And we don't have volcanoes to contend with.
Anyway, I don't wish to appear uncultured, as I do appreciate Italian art and architecture to an extent (well, at least as far as my 1996 A-grade in GCSE Art will allow), but my two main reasons for desperately wanting to visit Italy are firstly to watch a Serie A football match (just don't tell Ollie, as he's been pestering me to take him to Juventus ever since we got back from Barcelona a couple of years ago) and, secondly, to eat their food. All their food.
Don't get me wrong, I love Chinese and Thai food as much as the next man (assuming the next man really loves Chinese and Thai food), and given the choice of a meal out I would always opt for a curry; but Italian is the one cuisine where I could happily order most of the menu and not be disappointed. Apart from tiramisu. Tiramisu is shit.
Shit
Such is my admiration for Italy (and I say this without ever having visited, so I suppose the reality may disappoint, but I doubt it), around a decade ago I took a course of Italian evening classes to try to learn a bit of their language. I'm not sure what I hoped to achieve from this, as languages have never been my strong point, but the classes took place at my wife's school (so they were not only convenient, but I got them for half price), and I suspect deep down I was just desperate to make myself a little sexier. And, yes, I know what you're all thinking, ladies, 'how on earth do you improve on that?', but even Adonis-like specimens such as myself can strive to better themselves. Anyway, I promptly forgot everything I had learned within around a month of the course finishing, so the whole exercise was entirely fucking pointless.
Honestly, I can't even remember how to count to ten in Italian now, and it frankly scares me how little I retained (particularly when this was pre-fatherhood, so there was no excuse for my brain turning to mush). Then again, over the course of twelve weeks, at no point did we ever cover 'food and drink', or 'saying something sexy to make women go weak at the knees', so arguably it was a waste of time anyway. Why would I ever visit Italy for a week or two, and need to ask someone when their birthday is, or the best way to the library? I can't even count to ten in Italian, so what the fuck could I hope to achieve in one of their libraries?
Anyway, as I mentioned earlier, Ollie's topic at school this term has been Italy (following on from Ancient Rome and Pompeii last term) and, to conclude their time in Year 4, on Wednesday the class created their own Italian cafe, so they could cook for their parents as a treat. How delightful (said with only a hint of sarcasm).
Having been split into small groups a couple of weeks ago, the children then set about creating their own menu (from an admittedly limited range of options suggested to them by the teachers), and Ollie's group decided to serve margherita pizza, followed by panna cotta with strawberries. Ok, perhaps not my first choices from an Italian menu, but still perfectly acceptable, and I suspect the children were restricted by what the teachers knew how to cook in the first place. Besides, when the alternative dessert option was tiramisu (which, as we all know, is Italian for 'creamy work of the devil himself'), Ollie could have done a hell of a lot worse – pun intended.
Then, to save the expense/hassle of each child having to bring a vast array of ingredients into school, each group divided the shopping list between them to lessen the burden, and Ollie was given the task of sourcing the following:
'00' flour
Mozzarella
Cornflour
Whole milk
Ok, the list could have been easier, because we only had one of those ingredients in the house at the time (cornflour, for anyone who is curious), but when I spotted that one girl's parents had been lumbered with 'gelatine leaves, vanilla pods and yeast', I decided not to complain too loudly. At least two of our ingredients didn't necessitate a trip to sodding Waitrose.
Now, had the meal itself been a disaster, I would have felt sorry for Ollie and his classmates, as I know how much effort they put into designing and running 'Café Italiano', but equally it might have made for a funnier and more entertaining blog entry. As it happens, however, the event was a complete triumph.
When we arrived, the classroom had been emptied, with all the desks moved outside next to the playing field so we could dine 'al fresco'. Each table of four then had place settings, and generally speaking there were two children plus an adult each per table, but Ollie and I were sat with a couple of boys whose parents couldn't be there. Oh well, at least that meant I didn't have to make polite conversation with a parent I didn't know/like.
Once seated, the teacher came round with water for everyone (I did think about jokingly asking to see the wine list, but then stopped myself when I realised she was probably quite stressed, and therefore not in any sort of mood to be dealing with dickhead jokers like me).
While the drinks were being served, and some late comers were still being seated, one man spotted his daughter returning from the kitchen/classroom, and went to greet her – at which point she immediately burst into tears right next to our table. It transpired that she wasn't expecting either of her parents to be able to attend, and was so overcome with emotion when she saw her father, she started crying with happiness.
Typically, at the same time, my hayfever must have flared up, because my eyes started watering too (shut up). It was like one of those videos you see on Facebook, where the little child doesn't expect Daddy to make it home for Christmas, because Daddy is in the army and stationed somewhere like Iraq or Afghanistan, but then the Santa Claus in the grotto pulls his beard down and there's Daddy and everyone cries and…. Fuck it, I've gone again.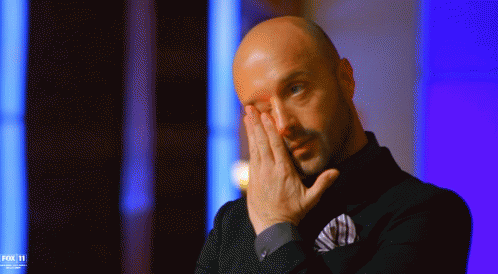 Anyway, soon after, Ollie returned from the kitchen with our first course of margherita pizza, and I have to say it looked and tasted far better than I was expecting:
While tucking in, one of the 'Café orphans' nearby sat down with his starter of 'freshly baked ciabatta with olive oil', and, having taken one bite, commented on how strong the olive oil was. Upon hearing this, a child at the table behind him, who was enjoying the same starter, piped up with 'well, it is extra virgin, after all', and I damn-near spit my water everywhere laughing.
Once the first courses were finished, the children disappeared back to the kitchen to fetch either their mains or desserts, depending on what second course they were offering, and Ollie presented me with a particularly lovely panna cotta, complete with strawberry compote:
Again, this looked and tasted better than I had anticipated, and when Ollie didn't particularly enjoy his, I even finished it for him (using the argument that I didn't want him to get into trouble for not eating his lunch, when actually I was just being greedy).
As it happens, because my expectations of 'Café Italiano' had been low, I had already eaten a quick lunch before leaving the office, and secretly confided this in Ollie – while phrasing it in such a way as to not hurt his feelings. I needn't have worried, however, as he then told me he had scoffed a roast gammon dinner in the school canteen about half an hour before I arrived, so clearly neither of us had much confidence in the café's success.
More fool us, because the whole event went very well, and I even jokingly asked the teacher where the tip jar was situated because I was so impressed. Of course, I then immediately regretted making another joke, when she loudly announced to all the parents that they would indeed be accepting tips, and people started glaring at me.
My attempts to quickly distract everyone with some exotic sounding Italian didn't work, either, as it transpired one of the parents spoke the language far better than me, and immediately started directing me towards the fucking library.
Thanks for reading x