One of my strongest memories of primary school (well, other than hating it for the first term, and being forced to wear the shittest uniform in the history of primary school education – it was predominantly brown and yellow with, rather inexplicably, a huge eagle on the front of the jumper), was learning to read via the 'Roger Red Hat' series of books.
Bizarrely, most of what I learned at high school and university has since evaporated from my brain (presumably because it was of little practical use), and nowadays I struggle to remember events from the week before, but I can still clearly recall that the books featured Roger Red Hat, Billy Blue Hat, and Jonny and Jennifer Yellow Hat (who I think were twins), and they all lived in the 'village with three corners'.
In fact, having just checked online, it turns out the series was known as 'One, Two, Three and Away' (which rings no bells, whatsoever), and other than the fact Jonny is actually spelt 'Johnny', I was pretty much spot on – even down to the fact he and Jennifer were twins. Just look at the fucking state of them:
Initial reactions:
Roger is an overly-dramatic, beret-wearing tosser;
Billy needs to stop the hillside manspreading;
Johnny should rethink his wardrobe choices, as the 'off-the-shoulder dungarees' look is just sooooo Deliverance

.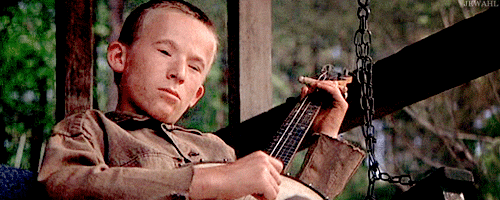 I have to say, I don't remember Percy Green, who is mentioned as a fifth character in the series, but what has really surprised me, looking through the list of books apparently released over four decades, was the number of truly disturbing titles available:
Jennifer Yellow-Hat and Mr Brown's Goat – let's just pray 'goat' isn't a euphemism;
No, Percy Green! – I might have to track down a copy of this, to see what the hell Percy did;
The Big Man and the Little Mouse – hey, it's not the size of your mouse which matters.
Stop it, Percy Green! – Christ, what's Percy done now?
Stop, Cried Alex – this is genuinely the next book in the series, so I can only assume Percy Green did something unspeakable to poor Alex;
The Donkey went to School – Well, it was the 1980's, and the Village with Three Corners does look pretty 'rural', so this should come as no surprise;
Jennifer Yellow-Hat Went Out in the Sunshine followed by Jennifer Went Out in the Dark and then Jennifer Yellow-Hat Went to Town – like all great trilogies, I'll wager the second installment of 'Jennifer Went Out' was the shittiest;
Roger, the Stick and the Old Man – I dread to think what went on here *glances down the list, to check for future releases entitled 'Roger Receives Life in Prison for Murder'*;
Percy Green and Mr Red Hat's Car – a tale of juvenile theft/joyriding, or a sinister child-abduction? Perhaps we'll never know, as the next release was 'Crash! The Car Hit a Tree', quickly followed by 'A Funeral in the Village with Three Corners' (ok, I made the second one up);
The Old Man and the Wind – standard. Happens to the best of us, pal;
Jennifer in Dark Woods – she's out again. I hate it when they ruin a perfectly good trilogy with a dubious spin-off release later on. Anyone remember Alien: Resurrection? I'm starting to think there was something sinister about Jennifer;
Sita Climbs the Wall – I wonder if Sita was Mexican, and this was a terrifying premonition of Donald Trump's presidency;
When the School Door Was Shut – they were really dragging the barrel in the later series, weren't they?
The Big Man, the Witch and the Donkey – a bit 'specialist', but each to their own (plus, C.S. Lewis' lawyers may want a word);
The Little Old Man and the Magic Stick – put it away, little old man.
Dancing Ann and the Green-Gruff Grackle – erm…. fucking what?!
The King of the Magic Mountains – I suspect the author was on heavy medication by this point;
The Horse that Flew in the Moonlight – yep, she was.
Anyway, before those of you who didn't grow up with these books get all judgemental, they formed an important part of my childhood, and helped me learn to read. In hindsight, some of those titles (none of which I remember), may also explain why my own writing can be so obscure, but that's not for me to say.
Sadly, not only did the series apparently finish at some point in the 1990's (which I initially assumed to be when the author passed away, but it turns out she died in 2014, at the ripe old age of 93), they are no longer available for today's youth, so I have been denied the opportunity of re-reading them with Ollie and Isaac, as a fond reminder of my own childhood.
Instead, my boys – like many other children around the country – have been subjected to a new gang of delinquents, known as 'Biff, Chip, and Kipper' (cue parents developing a Vietnam-style nervous twitch, at the very mention of those names).
Whatever you may think about the 'One, Two, Three and Away' books, at least those children had normal names, and, to this day – despite having read most of the series – I'm still not sure which of Biff, Chip and Kipper is the girl. Not that it matters, necessarily, because the parents should be investigated for giving their children such ridiculous names in the first place (I was just relieved to discover 'Floppy' is the dog, because no boy needs to go through adolescence with that for a name).
As I was reading one of these books with Isaac last week, slowly losing the will to live as he struggled over the same word he had already read seventeen times, it struck me that this series is no better than the ones we had as kids.
In the end, the more Isaac read, the more concerned I became about the story; so I ended up photographing each page, in order to illustrate the various issues I have with this particular title, which is simply named 'Spots'….
Why has Kipper surrounded himself with the angriest looking toys I've ever seen?
What has he done to that bear to make him so mad?
Why is Dad's ear purple?
Why are his sideburns a different colour to the rest of his hair?
Why do Biff and Chip have matching 1970's jumpsuits on?
What kind of shopping list comprises apples, bread, dog food and a doorbell? I can only assume they shop in Aldi;
Who buys a 'terraced houses' calendar?
How does Dad not spend the remainder of the book in hospital, being treated for third-degree burns?
I would be dubious of any doctor who turned up with hypodermic needles sticking out of her fucking handbag;
Is that a picture of George Michael on the girl's wall?
What's the fox grinning at?
What have the bear and the cat been up to, in order to look that guilty?
That is one truly awful dressing gown, Mum. She looks like a stick of rock for fuck's sake. Or a 1970's deckchair.
Look how smug Dad is, serving a breakfast of what appears to be hotdog, lentils, and a bottle of Lucozade – together with a giant bowl of what I sincerely hope are grapes and not green olives;
Does the newspaper say 'Dagenham Post'? If so, I assume the headline 'New Disaster Horror' is all about the horror of living in Dagenham;
Those sideburns really make me uneasy.
Is the man holding the dog up so it can see over the fence, or has it jumped?
What has the man done wrong, for his wife to glare at him like that? (Experience tells us, when he asks her later, the answer will almost certainly be 'you know');
Is it because he appears to be staring at Mum's knickers on the line (assuming they aren't Dad's)?
Speaking of mum's knickers (there's a phrase I never thought I'd type), how heavy are they that they require four pegs to hold them up, if a bed sheet only needs three?
Only a moron would hang the bed sheet like that, dragging it across the lawn where Floppy has presumably left lots of 'treats' lying around – and I don't mean that bone.
On behalf of men everywhere, I resent the suggestion we never go to the supermarket; and that, on the rare occasions we do, we try to pay for our weekly shop at the 'basket' checkout with a fucking cheque book;
In Dad's defence, what's the point in sticking the '8 items or less, Cash only' sign half way down the aisle?
Is it just me who finds that hammer a bit sinister? Plus, I was right, they evidently do shop in Aldi.
Has he dropped the frozen turkey on yet more grapes? Mum will be shitting through the eye of a needle at this rate;
The bloke behind Dad needs to sort his waistline out, particularly if he's going to insist on wearing double-brown. He looks like Bungle from Rainbow without the head on.
How old is that TV?
Why is it switched off? Is it because Dad is too lazy to get up and turn it on, or was he watching something mucky before the rest of the family walked in?
Who did Mum's make-up, Stevie Wonder?
Dad seems pretty pleased about contracting whatever illness the rest of the family had. Either that, or he's brewing a Dutch Oven under the covers;
Someone needs to tell Mum to look in a mirror and sort her face out;
This family is terrible at catering for the sick. You want soup when you feel unwell, not chicken, potatoes, and a bottle of wine;
Why is Dad's ear no longer purple? It obviously wasn't a birthmark at the start of the book, so what happened? Had he slept in some Ribena the night before?
And the book ends there, so clearly no one gives a shit what happens to poor Dad after he gets sick, and I also resent the fact the moral of the story appears to be 'men don't understand how difficult women have it.'
Sexist pigs.
Thanks for reading x