there was a little boy called Goldiblogs.
Well, his real name was Isaac, but he had such long hair (on account of the fact he would scream like a fucking banshee if he was placed within thirty feet of a barber's chair), he was often mistaken for a little girl. So, for one week in January 2018, purely because his father needed material for a blog entry, together with a *clever* title involving the word 'blog', he became known as Goldiblogs. If you don't like it, then tough shit.
Anyway, Goldiblogs lived in Sandbach, with his family – Daddy Bear, Mummy Bear and his elder brother, Ollie Bear.
One Saturday morning, Goldiblogs woke at his usual weekend time of 6am, a full hour before he would ever open his eyes during the week (when his parents actually needed him to get out of bed and ready for nursery), and he immediately began demanding to watch Youtube. Despite her sleep deprivation, Mummy Bear was able to find a suitable video on her phone in a little under ten seconds (she had considerable experience of searching Youtube quickly whilst semi-conscious), and immediately handed it over to Goldiblogs, so that he might 'shut the hell up'. As Mummy Bear drifted back off, she reflected that such inadvisable parenting methods were fully justified, if it meant a few more minutes of blissful slumber.
Unlike most children his age, Goldiblogs didn't want to watch Youtube clips of Disney characters, or CBeebies cartoons, and instead preferred to savour wildlife documentaries of small, innocent animals being ripped apart by savage predators (*this is a joke, in case anyone considers notifying the authorities about our questionable parenting. If you really want to report us, it would be far better to tell them about the cage we keep our children in sometimes).
Despite getting precisely what he wanted, Goldiblogs still decided to scream loudly for no apparent reason; and, when chastised by Daddy Bear, he retaliated with a swift kick to the testicles – his signature move. Daddy Bear knew this was likely to happen when the screaming started, and even began to take counter-measures to protect his teddy junk, but he was not yet fully awake, and his reactions were too slow. The kick found it's mark, and Daddy Bear made a sound not dissimilar to a donkey giving birth.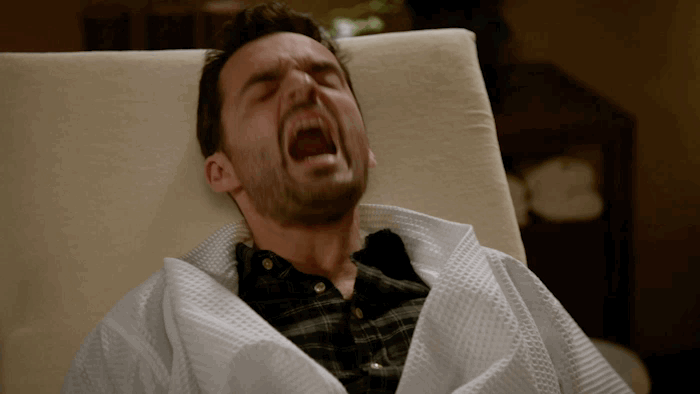 Goldiblogs' scream then woke his brother, Ollie Bear, who immediately wanted to go downstairs to play games on the laptop. Daddy Bear tried to persuade both of his children to go back to sleep for a bit, but he knew this was fruitless, and he was destined to now get up and make breakfast for them both.
This was the usual weekend routine for the Bear family. Daddy Bear would get up early with the children, while Mummy Bear had a lie-in, and in return they would swap later in the morning, so that Daddy Bear could go back to bed for a much-needed nap. Daddy Bear loved his naps, and his record was five in a day.
So, Daddy Bear reluctantly hauled his tired (and bruised) body out of bed, and dragged both of his children downstairs for breakfast.
He offered Goldiblogs a bowl of cereal, which Goldiblogs initially agreed to, but having taken just one bite, he decided it was 'too crunchy'.
He then offered Goldiblogs some toast, which was again readily accepted, but after the briefest of tastes, it was 'too chewy'. In the end, Daddy Bear gave up trying to placate Goldiblogs, and pretended to be asleep on the sofa, while Goldiblogs searched for his own breakfast. He soon returned from the kitchen, with a bowl of own-brand jaffa cakes, and they turned out to be just right.
Now, due to the fact the weather outside was horrible – because this story takes place in January, the worst of all the months – the Bear family decided to have a relaxed Saturday at home, without leaving the house. This turned out to be something of a mistake, however, because Goldiblogs was feral by nature, and belonged outdoors (presumably hunting for squirrels, and other woodland creatures to feed on).
As a result, within the first hour of their relaxing Saturday, Goldiblogs was climbing the walls. Normally, this is a figure of speech, to express one's feelings of nervousness or frustration, however, on this occasion, Goldiblogs actually attempted to climb one of the walls in the living room, and nearly destroyed a cabinet of DVDs.
What made the situation worse, was that this was the cabinet on the left-hand side of the Bear Family's fireplace, which was the one containing Daddy Bear's prized collection of Bond films. Had it been the cabinet on the right-hand side of the fireplace, Daddy Bear said he would not have given a 'flying fuck' about the Home Alone and Scooby Doo DVDs taking a beating, but he was very protective of his Bond box set, and slightly over-reacted as a result. Fortunately, soon after Daddy Bear had shouted at Goldiblogs, Mummy Bear got out of bed, muttering something about all the noise, and Daddy Bear was allowed to go for his nap. This pleased Daddy Bear immeasurably.
Unfortunately, Goldiblogs was no quieter during Daddy Bear's nap, as he decided to play with ALL THE TOYS IN THE HOUSE simultaneously; and, having surrounded himself with all the toys, he set about searching for the absolute noisiest.
Following what appeared to be several hours of thorough investigation, Goldiblogs determined that the toy keyboard was too quiet, the toy guitar was too broken (thanks, in no small part, to Daddy Bear removing the batteries earlier in the week – something he chuckled to himself about at the time), but the toy drum kit, which Goldiblogs' uncle had bought him for Christmas just two weeks earlier, was just right.
So, having located a device with which to re-create the precise thumping monotony and decibel level of a pneumatic jack hammer, Goldiblogs set about beating the living crap out of it for the next hour.
When Daddy Bear eventually gave up on trying to nap, and arrived back in the living room with every intention of launching said drum kit over the fence in the back garden (whilst simultaneously making a mental note to buy his ten-month old niece an air horn next Christmas, to enact sweet revenge on his evil sibling), the decision was made to get the family out of the house before someone fully lost their shit. That someone was highly likely to be Daddy Bear.
Sadly, the brief trip to Crewe, to buy new shoes for everyone apart from Mummy Bear – who, Daddy Bear remarked, already had enough pairs of shoes to wear different ones each day for at least two months – did little to raise everyone's spirits, and so Mummy and Daddy Bear eventually gave in to Ollie Bear's pleas to have lunch at Nando's.
Once Goldiblogs had been provided with a packet of crayons, and something to scribble on, he was much quieter (if not particularly well-behaved), and eventually agreed to some chicken strips, garlic bread and chips for his lunch. Whilst not the healthiest of options, Mummy and Daddy Bear had long since given up hope of having a nice family meal out together, and so they chose their battles carefully. For a while, Goldiblogs seemed almost happy, and even posed for a photo.
Naturally, when the food arrived, Goldiblogs wanted lashings of ketchup over EVERYTHING. Ketchup was Goldiblogs' favourite food of all time, even above jaffa cakes, and he bloody loved jaffa cakes. It did not matter to Goldiblogs that ketchup is nothing more than a condiment; because, to him, it was the very centre of the culinary world. In fact, if Goldiblogs could smother jaffa cakes with ketchup, then he most certainly would – although the idea had not yet occurred to him, and if anyone were to mention it in his presence, Daddy Bear would surely hurt them. No, seriously, don't even think about it.
In order to keep Goldiblogs happy / sedated, Mummy Bear applied a large dollop of ketchup to his plate. Goldiblogs was displeased with the quantity, however, and cried for more. Mummy Bear therefore glanced at Daddy Bear, who was in turn glaring at his youngest child (whilst chewing angrily), and she allowed Goldiblogs a little more sauce to keep the peace. This was still not enough, however, and so Goldiblogs grabbed the bottle from his mother, and promptly emptied the contents over his food, until it was almost entirely coated. This, to Goldiblogs, was just right.
That evening, following his bath, it was time for Goldiblogs to go to bed. Goldiblogs hated going to bed, and loudly screamed that he wanted to stay up late, but all of the day's bad behaviour had taken it's toll, and soon his eyes began to drop – although not before he had loudly announced that his bed had 'Pooh in it' (which caused Daddy Bear to come sprinting up the stairs in a blind panic, fearing the worst).
Once Goldiblogs was asleep, Mummy Bear crept downstairs, so that she and Daddy Bear could have their evening meal, and regain some normality.
But, before long, it was Daddy Bear who began to feel sleepy, and he decided to head to bed himself. He crept carefully up the stairs, so as to not wake either of the children, but unbeknownst to him, Goldiblogs had already woken up, and had decided that his own bed was too small. He had then tried to climb up the ladders to his brother's bed, but it was too high. So, in the end, he had walked into Mummy and Daddy Bear's room, and got into the middle of their bed.
And it was just right.